My Cuban Cigars
Your authentic Cuban Cigars since 2005!
This Week's Hot Deals!
H. Upmann
Connoisseur No. 1 Slb

Hoyo De Monterrey
Epicure No. 1 Slb

Montecristo
Eagle

$240
$299
$299

$ 224

$ 285

$ 285
Each and every Friday we offer you a new promo.
Check back every week to see if one is the right match for you!
If you're looking for those delicious Cuban cigars you've heard so much about, you've come to the right place. My-Cuban-Cigars.com offers you a wide selection of the most reputable Cuban brands which can be delivered to almost any corner of the world from Western Europe.
We send our cigars untouched in their boxes, the seals of the box unbroken (unless you want us to check them prior to shipment). We deliver them quickly (within 4-10 working days) and with much confidentiality to your front door - and deliver them better than anybody else.
For orders of $150 or more, we offer you free shipping.
Plus, when you order from us, you can be sure that you will get genuine Cuban cigars. All items are guaranteed to be authentic, as thousands of our customers have already discovered. So, get ready to start browsing and enjoy our selection of Havanas!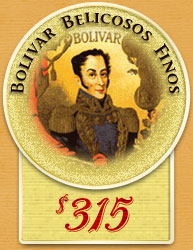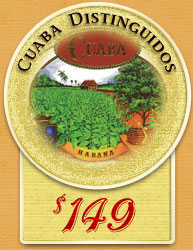 " Ah, if only I had brought a cigar with me! This would have established my identity. "
Charles Dickens
What are your most important cigar accessories?