Box Codes: Why Do We Need Them?
Have you ever wondered what is that stamp on the bottom of the cigar box you have purchased at my-cuban-cigars.com? We're sure that the majority of you is probably informed about its meaning and already knows that being able to "read" the code would save you from buying fakes and low-quality cigar. However, let's see what other information we could provide here.
Twins
Let us imagine a situation in which we received a box of Montecristo Especial cigars dated CLE AGO00. We know that the encryption AGO00 is the month and the year when our cigars were manufactured - August 2000, while the abbreviation CLE stands for the El Laguito factory where Cohiba and Romeo Y Julieta brads are manufactured. Now that we possess all this information, how could we be sure that these cigars are genuine, knowing that only two before-mentioned brands are rolled there? Have we received a fake product? We are double checking the box, but everything seems ok, except for the code. And then a sudden thought hits our mind, and we recall that both Montecristo and Cohiba have two similar cigars which are called Lancero. These are absolutely identical vitolas with pigtail caps.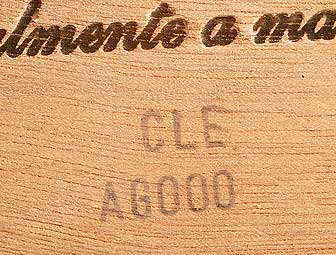 Most likely, our stogies were rolled at the El Laguito factory. However, these cigars didn't pass the Cohiba quality control for some reason and were disqualified. And thus, they have received different bands, put into different boxes and sold under different brands.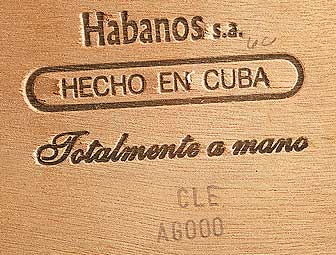 The cigars produced by the El Laguito factory are always of the highest quality, even if this quality could not be considered good enough for the most elite Cohiba brand. However, it is often regarded as a good quality for other brands, like Montecristo (though Montecristo fans noticed the difference).
And just imagine that you received Partagas Lusitanias made in San Andreas factory in Holguin, Eastern province! I bet none of us would be happy! :)
Let's Make Things Clear
Theoretically, each Cuban factory has its own rating, but it looks like all factories have identical standards and produce cigars of similar quality. Let's make a brief summary of the factories from different Cuban regions. Deciphering their codes would help us avoid being cheated.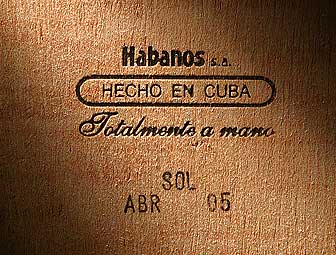 Since 1959, after the Cuban Revolution, the best factories have always been located in Havana (except for a factory in Cienfuegos). Generations of Cuban rollers live here, passing their skills and keeping their traditions from generations to generations. These people have always been known for their great rolling experience and many others.
The most remarkable cigar brands have always been rolled in Havana. This is the reason why its factories are supplied with the best tobacco. However, there is a division among them too.
The number one factory is the El Laguito, which is followed by the Partagas, H.Upmann, and Romeo y Julieta, with the last place belonging to the Heroes del Moncada factory. Therefore, if you are able to read the box codes, you would never buy a Montecristo No. 4, made in Heroes del Moncada, for example, and will be looking for the same cigars produced by the Partagas factory which are all present at my-cuban-cigars.com.
The next position in this rating is occupied by the Pinar del Rio factories in the western province, since the best tobacco is grown there. Many western plantations are known for their large areas, great history, as well as vast experience and age old traditions which are still kept there. Pinar del Rio's best factory is named Francisco Donatien, in honor of the Cuban national hero. Such brands like Vegueros, Trinidad and Vegas Robaina are also currently manufactured there.
The factories based in the Havana province hold the third place. Their workers have always been regarded as highly skilled (due to the capital's neighborhood), and, thus, the cigars manufactured here could also be considered of a good quality.
After the Cuban Revolution in 1959, the government decided that each province, as well as district should have its own cigar factory, regardless of their workers' skills, experience, and tobacco grown in that region...
The tobacco plant is also growing in the central part of Cuba but is considered of a poor quality and cannot be used while rolling premium cigars. The lack of transportation and gasoline could cause delays of tobacco delivery from the western region. However, every factory has a plan which must be completed. Otherwise, the director would carry a penalty. As a result, locally grown tobacco could be used in cigar blending in order to bring plant into effect.
However, it could turn even worse if your cigars are rolled in the eastern part of Cuba. The chances are high to get a low-quality product since local climate and soil characteristics are excellent for growing tobacco good ... for cigarettes. Just imagine the quality of a cigar that was made from such tobacco we all have a chance to smoke one day!
* * *
Eventually, if you are able to read and understand Cuban box codes, have a perfect knowledge of the kind of inscriptions shown on the boxes, the time they appeared, you could easily secure yourself from fakes. There is a small chance that all counterfeiters follow general rules, with many of them even not knowing all nuances.
The last thing that we should inform you about is that, before the Revolution, all stamps were in English and looked in the following way - Made in Cuba or Made in Habana-Cuba. However, since 1960 things have changed, and Cubans began making all inscriptions in Spanish. For example, Hecho en Cuba. Until 1994, all boxes were stamped as Cubatabaco, but starting that year it changed to Habanos S.A. In 1989, a new inscription has appeared - Totalmente a mano which means Totally handmade in English; it has replaced the older inscription Hecho a mano. Another change has occurred in 2004 when the term Tripa corta (or TP) or short filler in English, appeared.
To get more information on the Cuban codes, please read our article"The Evolution of Cuban Box Codes" .